26E Bacup Shed 1950 – The Layout
The idea of doing another layout actually came from one the members as we wanted another project once the extension of Ramsbottom was finished.
 We were at first planning on doing 26D Bury shed but once Keith had managed to aquire some boards to build the layout on it was soon learned that we just wouldn't be able to fit the shed onto these as it had an 8 road steam shed and a 5 road electric car shed. So our focus switched to another local shed….26E Bacup Shed.
This locomotive shed only had a 4 road shed which will fit easier and hopefully will be portable to take to shows and events.
The shed was stared on the 06/01/2011 with our chairman Alan Garside making the first measurement and cutting on balsa wood to form the front entrance and the rear entrance of the shed.
The following week on the 12/01/2011 Alan had now made all the sides and will begin to start wrapping them in stone paper by Metcalfes.
Since the last update unfortunately Roger Wilson has died and to be honest to the project was abandoned whilst we grieved the loss of our friend. But 2 weeks ago we decided to kick start this project again and it has gathered speed.
On July 26th 2012 Keith, Alan and Alex made a start on the baseboards for this layout. The following week we managed to recruit a new member called Peter and is very enthusiastic about the new layout. This frame work will be in 3 or 4 sections depending on the size of the final layout. One section will be come out slightly larger than the rest to add the main line that runs from Bacup to Rochdale.
The frame work is made from 2×3 soft wood which is glued and screwed using 2inch screws and standard pva wood glue. The frames then have 3 or 4 cross members added made from 2×2 soft wood to add strength to the section.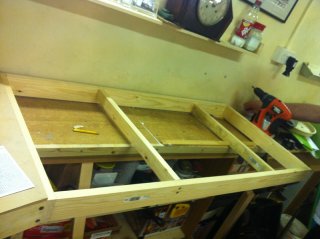 When the frame work has dried and is finally ready for the board to go on. It is then glued around the frame using pva glue again with the mdf sheet placed on top and panel pinned down and allowed to set.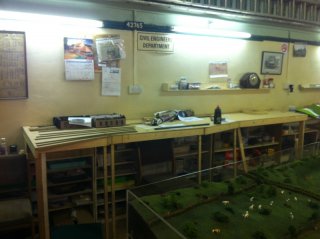 The current progress on Bacup Shed is that now all four sections have been made, we have track plan but will have to alter the track layout to fit to the size of our boards. We will try and keep all the major areas such as the coaling stage, offices etc. The shed will also have a roof that is removal with pits runing through its entire length. There will be a tunnel at the other end and this will form part of the scenery.