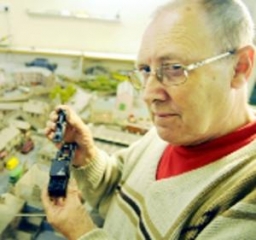 Hello People,
It is with great sadness that I have to report this but here goes….Today in the early hours of 13/04/2012 our club member and our friend, Roger Wilson passed away.
He was 71 and a month short of his 72nd birthday. Roger was the kind of guy who loved doing D.I.Y and with his skills he certainly made an impact at our club with the likes of relaying the wooden floor, hanging a new door frame, fitting a new lock, building the control cubicles.
This guy loved joinery and maybe should of been a joiner but his career was in the postal industry serving Ramsbottom and Bury for years until he retired in 2005. It was at this time that he decided to rejoin Ramsbottom Model Railway Club as a full member and contribute to the layout and clubs needs. It must be forgotten that Roger was also one of the founder members having attended the very meeting back in Alan's house in 1978!
He was also the Chairman for Ramsbottom Horticultural Society and had been very active in this and the flower shows for a good many a years even before becoming a member again at our club.
Take care up there friend and thank you for all your hard work, commitment, friendship and memories that you gave us, It was an honour to of met you.
R.I.P Roger Wilson 1941-2012 (13/04/2012)
Daniel Jones