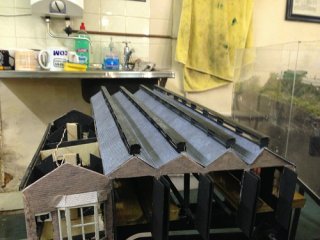 Evening All,
 Well after about 4 weeks working away in Yorkshire, Herefordshire and Shropshire I have finally managed to get a Thursday night to pop down and do a bit with the guys at Ramsbottom Model Railway Club. I can't complain about working away as you get to see some really beautiful places and meet some very nice people.
A nice warm welcome to our new member Philip, he is a South African. He has interests in South African railways, modeling scenes and also hopes to model Summerseat Station sometime in the near future. Unfortunately I have not had the pleasure of meeting him yet but I'm sure the time will come as he was at Bolton this week. Welcome to the club mate.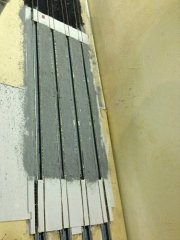 Well here is the update thanks to Keith and Alan.
Only three tonight, these being me, Keith and Alan. No Peter, Alex or Philip due to other commitments.
The Bacup Shed building has finally had its roof added and glued down. This has also included the wooden air vents that run the length of the shed and give it some character. The original plan was to have the shed roof to come off so people can see inside but this wasn't to be as it would have been a bit difficult with the delicate vents.
Dark grey fine ballast has been laid inside the shed roads to represent concrete walkways. Some of this has even been put in the pits to show concrete pits. We may well weather this to be a bit dirtier as we know that sheds were never clean.
12x peco point motors have been wired up. This is done by using a green wire with a loop over to a tab on the same side, this is then the common. Then a blue wire on one of the other tabs and a white on the other. These are to be used for the Bacup layout.
2x peco point motors have now been fitted to an insulfrog point. This has also had a supply for dcc by soldering two wires to the underside of the point.
2x gas lamps have also been fitted on Bolton Road North in Stubbins opposite the station. These have been cut out, glued together, wired up using a grain of rice 12v dc lamps and then painted green. These are then fitted into location and wired up underneath the layout.
Keith has been beavering away on the Bacup layout installing more cork strips for the laying of track in the next coming weeks.
We have found in recent weeks that the turntable we have which is a peco model seems to bounce a bit. We hopefully have solved this by gluing some lead weights in place.
Alan has made a few water cranes out of a silicone lid, a pen and what looks like some wire.
Alan this week decided to take a break from modeling and run a few trains. The chairman has had a day off and has new teeth!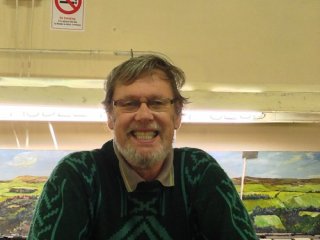 We also sold some unwanted and unusable books, wagons, carriages, trains, controllers, old bits and bats. This managed to raised a total of £70 which will go towards Bacup as we need more points.
Cheers for reading,
Dan